https://radiotamazuj.org/en/news/article/south-sudan-set-to-audit-crude-oil-sector
South Sudan set to audit crude oil sector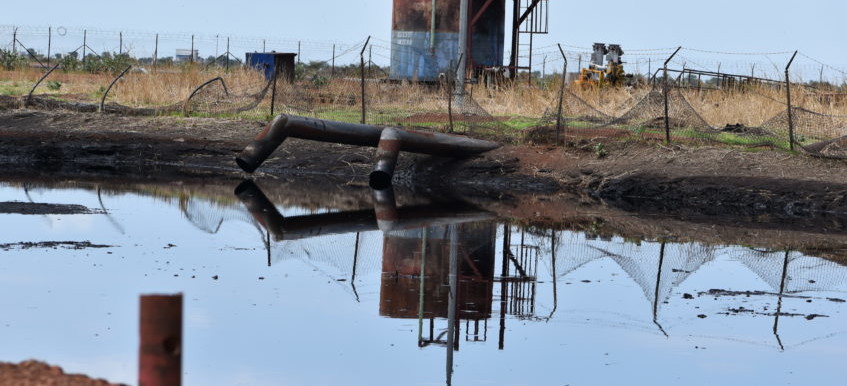 Oil spill at El Torr oil field in Ruweng State on May 30, 2019. [Photo: Eye Radio]
South Sudan's government says it is preparing to commence an audit of the crude oil sector after years of financial mismanagement and reported poor environmental practices in the oil-producing areas.
Speaking to journalists during a press conference in Juba on Monday, the deputy chairperson of the supervisory committee to oversee the audit of the petroleum sector in South Sudan, Caesar Oliha Marko, said the oil companies will account for the mess they caused both to the communities living in the oil fields and the environment.
"The audit will ensure the government adopts measures to ensure that loss and wastage of petroleum resources in the course of extraction, processing, transportation, and exportation are kept to a bare minimum so that the country derives maximum financial benefits from its exploitation," Marko said.
He stressed that the audit report will also help inform the government on several hidden issues in the oil sector including the volume of crude oil produced, the technology the companies use, sale, export, diseases caused due to oil pollution, and environmental issues.
The audit exercise is the first of its kind since the country became independent in 2011.
Speaking during the same event, the representative of the American audit company said they will ensure the audit of the companies is comprehensive.
The whole audit is expected to take more than 5-9 years according to the government.
The audit comes amid a recent request by the UN Security Council Panel of Experts on South Sudan demanding Chinese oil companies in South Sudan to provide details of oil revenues they have transferred to the government in the last two years.
The UN's sanction committee says it has reports of "misappropriation and diversion of public resources and lack of transparency, oversight and financial governance" in South Sudan.